Wireless earbuds and headphones are everywhere these days. From Apple's popular AirPods and Beats PowerBeats to a variety of imitators from other brands, the future of listening to music — and performing a myriad of other hands-free tasks that involve audio — is looking wire-free.
In fact, many phones and laptops these days don't even have headphone jacks, which makes plugging in wired headphones impossible.
With that said, if you're not tech-savvy, you might run into trouble when it comes to connecting your wireless earbuds to your devices. Luckily, we've put together this easy-to-comprehend guide to help you do just that!
How to Connect Your Headphones Using Bluetooth
Even though the buttons you press and how long you have to hold them may vary depending on the type of headphones, the pairing process is always simple. Follow these steps:
Under the Settings menu, select the Bluetooth tab and make sure that it is turned on.
On your headphones or earbuds, press the Bluetooth pairing button. Your manual will show you which one that is. Some headphones will automatically be in pairing mode once they're turned on.
It usually only takes a few seconds of holding down the pairing button before the LED lights on your headphones start blinking, which notifies you that they're ready to be paired with another device.
On your phone, under the Bluetooth tab, the name of your headphones should be listed. Tap that and you should be paired immediately.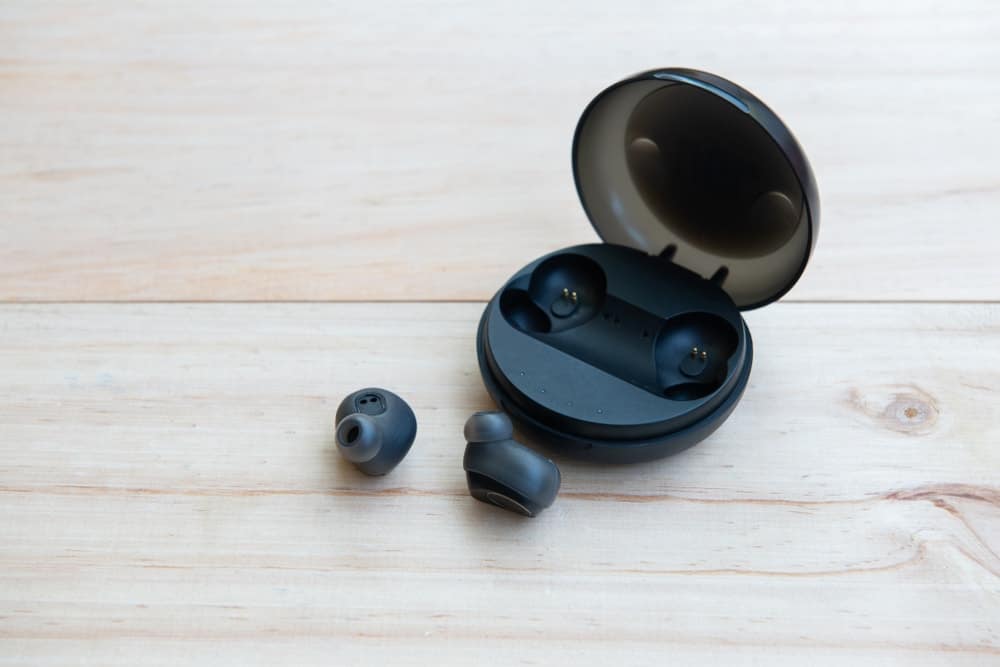 Though this should work the first time, you might need to repeat the process if it doesn't take. You will usually see the name of your earbuds or headphones on your screen, but sometimes companies use abbreviations or codenames. Make sure to check the manual to see what the devices might be listed as.
Other names might show up on the pairing list maybe your computer, or someone else's Bluetooth-enabled device but you should take care to only click on your own device.
What Happens After Your Devices Have Been Paired?
Once your device is paired, you can start playing music right away. Depending on what controls your headphones offer, you might be able to track navigation, adjust your volume, take phone calls, or even talk to Siri all through the headphones.
If you have an iPhone, there are certain products, like AirPods or BeatsX, that pair easier with your phone because they are equipped with Apple's W1 chip. With these devices, you don't even have to go to the Bluetooth menu. If the earbuds are close to your phone, they should pair right away.
No matter what type of earbuds or headphones you're using, pairing with Bluetooth is quick and easy.
How to Reconnect Your Headphones
The Bluetooth range is around 30 feet, and as long as your two devices are within that range, they should pair automatically whenever your headphones are powered up and your phone is ready for pairing. However, some devices might need to be re-paired every once in a while. This is an inconvenience, but not hard to manage.
Once you've done the initial pairing process, you don't usually have to put the headphones back in pairing mode. All you need to do is locate the Bluetooth menu on your phone again, search for the name of your headphones, and connect them.
Unpairing Your Headphones
There are a bunch of reasons why you might have to unpair your headphones from your device, such as connection issues. If you're having trouble connecting, the solution to your problems might be to erase the headphones from your Bluetooth device and start the pairing process all over again.
To do this, you should tap the icon next to the name of the headphones on your phone. This will lead to a screen where you'll see the option to Forget This Device. Click this to remove the device from your list of pairable devices. Then all you have to do is start the pairing process from the beginning.
If you're using an Android process, this process might vary slightly but will ultimately follow a similar pattern. It is also worth noting that this process can work for pairing Bluetooth speakers, too.
Troubleshooting Problems With Bluetooth Pairing
According to the Bluetooth Special Interest Group, Bluetooth technology is one of the most popular wireless technologies in the world.
It allows you to transfer data between two devices without connecting them via wires. With more than 4 billion Bluetooth products available in 2018, it is anticipated that that number will double by 2021.
Bluetooth seems terrific when it works. If you're someone who uses Bluetooth technology, you know how frustrating it can be when you have troubling pairing devices. Here are some common pairing problems and solutions.
Common Reasons Bluetooth Pairings Fail
The success of Bluetooth connection depends on both hardware and software. Bluetooth tends to be backward compatible, with new Bluetooth models still being able to pair with devices that use antiquated Bluetooth standards.
Bluetooth Smart devices are the exception to this rule. Devices that use Bluetooth Smart, a low-energy version of modern-day Bluetooth technology, operate on a different protocol.
Devices like fitness bands or heart rate monitors frequently use this technology, and they usually will only connect to devices that are Bluetooth Smart Ready. Bluetooth Smart is not backward compatible and won't be able to connect to older devices using classic Bluetooth technologies. For instance, an outdated Sony Ericsson phone that uses Bluetooth 3.0 would not be able to connect to a Bluetooth Smart device.
However, Bluetooth 4.0 and up devices (labeled Bluetooth Smart ready) are usually able to recognize both Bluetooth Smart and Bluetooth Classic.
Fitness Bands & Smartwatches Compatibility
Smartphones like iPhones (operating with iOS 7 and up), Android using 4.3 or newer, Windows Phone 8.1s, and all Blackberry 10s are Bluetooth Smart compatible. In order to pair your phone with your fitness band, make sure that it is running on the latest version of its operating system.
If Bluetooth is analogous to a language, then Bluetooth profiles can be analogous to dialects. Two devices need to share the same Human Interface Device Profile in order to be connected. For instance, a camera and a mouse might not work together, but if a cell phone and a wireless headset both use the Hands-Free Profile, they should be able to be paired without an issue.
Pairing failures can also be a matter of user error, and these mistakes can be fixed in just a few steps.
What to do About Pairing Failures
1. Make Sure You've Turned Bluetooth On
If the Bluetooth symbol is not shown at the top of your phone screen, enable it in the Settings tab.
2. Uncover Your Device's Pairing Process
Some pairing processes involve tapping a code into your phone, or physically touching your phone to the device that you're looking to pair it with. Phones that have the NFC (Near Field Communications) feature, most likely Androids, often require this option.
Sometimes, as is the case with the Bose SoundLink, all you have to do to pair a device with a phone is press a button on the speaker. If you are unsure how to pair a device, refer to the user guide.
3. Turn Discoverable Mode on
If you want to pair your phone to your car's infotainment system, you must first find the Bluetooth tab in your phone's settings to make sure your phone is visible to the car. Then, press the buttons of the infotainment system, which are commonly found on the steering wheel or the center stack, in order to get your car to start searching for your device.
After your phone is found, the car might prompt you to confirm a numeric code on your phone. Once you do this, the devices should be paired. Though you should note that you should do this quickly because your phone might only be discoverable for a few moments.
4. Make Sure Both Devices Are Close to One Another
The devices you are trying to pair should always be within five feet of each other, in order to make it easier for them to connect.
5. Turn Each Device Off and On
Switching your phone in and out of airplane mode, known as a soft reset, is an easy way to resolve an issue.
6. Remove Any Prior Bluetooth Connections
If your Bluetooth speaker is having trouble connecting to a new device, it could be because it is continuously trying to connect to another, previously used device. Older devices usually try to connect to the last object they paired with. Make sure that the previous gadget is turned off or out of range.
If you no longer plan on using the older device, it should be unpaired from your Bluetooth device. To do this in iOS settings, tap on a device's name and then click Forget This Device. For Androids, just click the device's name and then hit Unpair. Once the old device is removed, go back to step 1 on this list and begin the pairing process anew.
If your Bluetooth device is able to pair to more than one device, research the reset instructions from the manufacturer so that you can clear all pairings from the device.
7. Charge Each Device You're Attempting to Pair
Make sure the devices you're trying to pair have enough battery power. If the battery is too low, some devices use smart power management to disable pairing functions.
8. Remove a Device From Your Phone
If your phone recognizes a device but can't pair to it, it might help to start from the beginning. Follow the aforementioned steps in order to remove a device from your phone and repair it.
9. Move Away From The Router
Make sure your devices aren't too close to the Wi-Fi router, since it can be known to cause interference between devices using the same spectrum.
10. Move Away From USB 3.0 Ports
High-speed USB 3.0 ports, often found on newer laptops, can also cause Bluetooth interference. Make sure you've moved away from any of these ports in order to successfully pair your devices.
11. Ensure Devices You're Attempting to Pair Can Connect With One Another
Refer to your devices user manuals in order to make sure they are able to connect with each other. If they can't, you will just be growing frustrated and wasting your time.
12. Install a Driver On Your PC
Sometimes you are able to solve pairing problems, especially with PCs, by finding the proper driver. The easiest way to do this is to research the device you're trying to pair plus the keyword driver.
Not Every Device is Bluetooth Enabled
It's important to note that not every wireless device you purchase will be compatible with Bluetooth. For instance, the device you own might use an alternative technology such as Wireless HD, NFC, Wi-FI Direct, ZigBee, or ANT+.
If this is the case, it probably won't be able to sync up with your smartphone, laptop/desktop, or tablet without purchasing an adapter of some kind. This is why you should do your research before you buy a wireless device to ensure it will be compatible with your other gadgets.